기술연구 R & D  
  
Principle of Air Cleaner
OCEAN AIR CLEANER is a solution of dust collection that uses electrostatic forces, and consists of collecting plates and discharge wires. A high voltage is applied to form an electrical field between the collecting plates and the discharge wires, and also ionizes the gas to supply ions around the discharge wires. When gas that contains an aerosol (dust and mist) flows between the collecting plates and the discharge wires, the aerosol particles in the gas are charged by the ions. The Coulomb force caused by the electric field causes the charged particles to be collected on the collecting plates, and the gas is purified

  High Voltage Power Supply
HVPS is a key component of Air cleaners. Our Research will continue to develope HVPS for better Air cleaners.

The HVPS has key protection functions as follows.
◆ short-circuit protection
◆ over-current protection
◆ under-voltage protection

  Filtration efficiency of OCEAN Air cleaner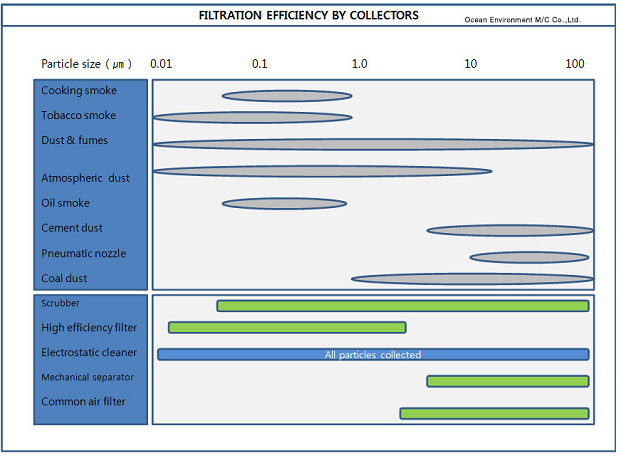 Small particles in size are well collected by OCEAN Air cleaners as shown above. It collects particles less then 0.01 micron.

  Performance Test in our research Lab.
Our Air cleaners are tested and adjusted to design them with better performance.